April 30, 2021 — Zuke's has voluntarily removed its popular Zuke's Mini Naturals Dog Treats from retail stores due to "a potential quality issue".
In an online letter to customers, the company states this is "not a recall" and that the cause is "not a food safety issue".
Dog Food Advisor has requested and is awaiting a company response. We'll update this page as soon as more information is available.
Company Response
In response to our request for more information, Zuke's replied:
"At this time, we are proactively and voluntarily removing our Zuke's Mini Naturals products from sale due to a quality issue.

"Zuke's is a natural product, which uses a natural preservation system. We have identified a product quality issue during recent production with instances where the natural preservation system may not be working as effective as it should. While not a food safety issue, we are proactively and voluntarily removing Zuke's Mini Naturals from sale because we want pet parents to continue to have the best experience with our products.

"Since this step is being taken due to a quality issue, we are not asking pet parents to return the product. If you are not completely satisfied with your Zuke's purchase, we are always happy to issue a refund. Please reach out to our Pet Parent Relations team here."
Which Products Have Been Removed?
The following dog treats are affected by the company's action.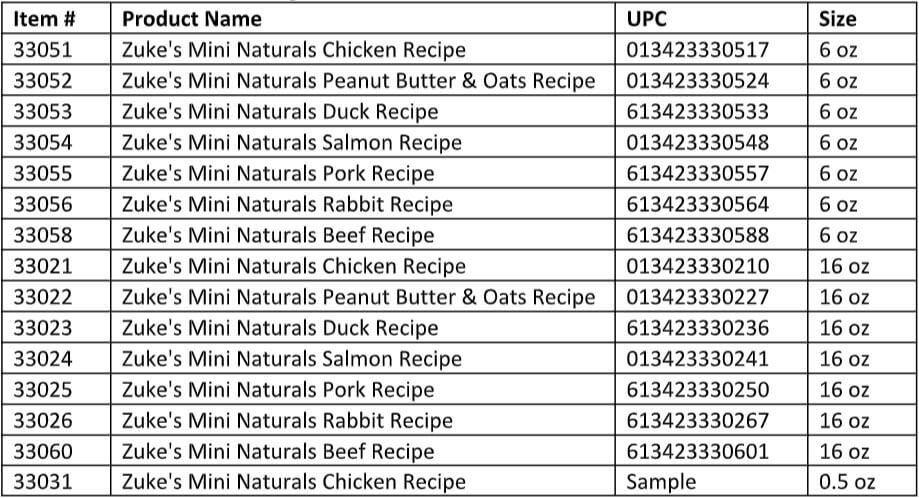 What to Do?
For more information, consumers may contact Zuke's Customer Service.
Zuke's has asked pet food retailers to immediately remove all affected products from sale.
And to "promptly dispose of all Zuke's Mini Naturals products in a safe and lawful manner that ensures the product does not re-enter the marketplace".
U.S. citizens can report complaints about FDA-regulated pet food products by calling the consumer complaint coordinator in your area.
Or go to the FDA's "Report a Pet Food Complaint" page.